IS YOUR ORGANIZATION SUFFERING FROM A
LACK OF TRUST?
Trust is at the heart of every relationship, and it's especially critical in the workplace. In fact, the primary factor affecting employee turnover is whether or not a trusting relationship was developed between the manager and the employee. Our Building Trust workshop teaches your managers how to build trust to increase engagement, creativity, and commitment.
82% OF PEOPLE say they don't trust their boss to tell the truth, and 45% OF EMPLOYEES say lack of trust in leadership is the biggest issue impacting their work performance.*
We all know what a distrustful workplace looks like: managers withhold information, people talk behind each other's backs, employees are afraid to share concerns, no one takes responsibility, and you end up with poor morale, lower productivity, increased turnover, and an unhealthy work environment satisfaction at work.

In contrast, high trust organizations experience 32X GREATER RISK-TAKING, 11X MORE INNOVATION, AND 6X HIGHER PERFORMANCE.**
BUILD A FOUNDATION OF
TRUST
---
With proper training in relationship building trust, employees will get to know the fundamental aspects to create a positive, empowering and motivational work environment. Furthermore, there are several more characteristics that build a good work relationship:
INCREASE PERFORMANCE

Employees have higher levels of commitment and give more discretionary effort.

RETAIN YOUR TALENT

Employees are more likely to stay and endorse the company as a great place to work.
DRIVE CREATIVITY & INNOVATION
Employees feel safe to communicate more openly, share their best ideas, and take initiative.
CREATE COLLABORATION

Colleagues and teams help each other and work together to get things done.
HOW TO DEVELOP TRUSTING
RELATIONSHIPS
We know how important trust is in every relationship. Our Building Trust program can help your leaders and their team members learn how to build trust in the workplace and how to repair it when it's been broken.
Based on 30 years of research, our trust experts have developed a simple, yet powerful trust model that provides a common language and framework, focused on the specific behaviors that build trust.
With the Building Trust program, individuals are able to understand the impact of their behaviors on building or eroding trust, and can identify those aspects that need attention to build and maintain trusting relationships.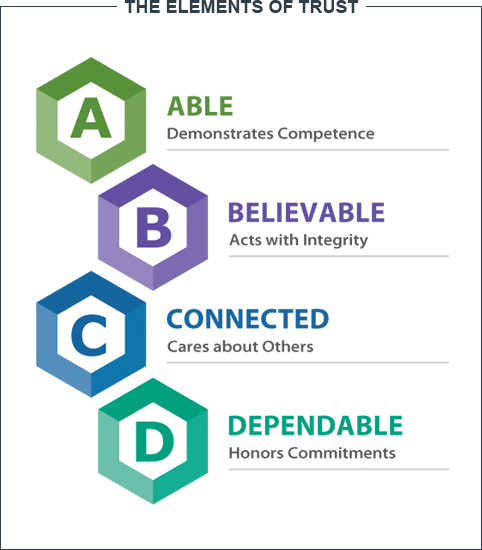 DOES YOUR ORGANIZATION HAVE A TRUST ISSUE?
Building Trust – The Critical Link to a High-Involvement, High-Energy Workplace Begins with a Common Language
FLEXIBLE DELIVERY TO MEET
YOUR NEEDS
LIVE IN-PERSON WORKSHOP​

With hundreds of facilitators around the world, we can deliver Building Trust to your managers face-to-face at your offices.
LIVE VIRTUAL WORKSHOP

Your managers can participate in live, virtual training sessions and learn how to build trusting relationships right from their desks.

ON-DEMAND ELEARNING PROGRAM

Our Building Trust online program gives your managers a brief overview of the core concepts available anytime, anywhere.

ON-DEMAND SUPPORT TOOLS

Building Trust Clicks provide managers with browsable tips on building trust for just-in-time learning.
BUILDING TRUST DIGITAL
SOLUTIONS

BUILDING TRUST ONLINE
Leveraging the latest in learning design and advanced technology, our online version of Building Trust is designed to introduce learners to the core concepts and skills needed to build and maintain trustful relationships.

Learners work their way through three modules composed of engaging micro-activities ranging from 1 to 5 minutes each in length, requiring 35 minutes to complete.
BUILDING TRUST CLICKS
Our latest on-demand performance tool, Building Trust Clicks provides learners with trust tips that can be accessed just-in time during moments of need or can be used to introduce, refresh or reinforce skills before or after a training session.

Building Trust Clicks includes a searchable playlist of 12 microlearning activities, ranging from 1 to 5 minutes each.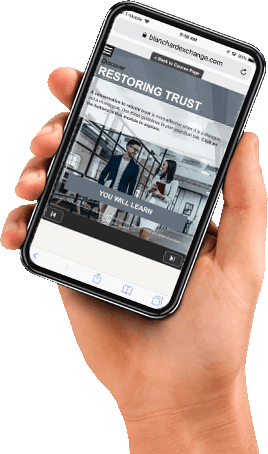 Building Trust is delivered as a half-day face-to-face or virtual workshop, or as a brief online overview. Contact us today to learn how we can help your managers build trusting relationships throughout your organization.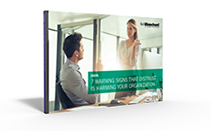 Connect with us to access our case studies or other resources.