Diversity, Equity & Inclusion
WORKPLACE INCLUSIVITY MEANS
EVERYONE FEELS VALUED
Diversity Management
Blanchard believes people want to bring their best to work. Everyone deserves an environment where they can truly be themselves. But achieving true diversity, equity, and inclusion (DEI) isn't easy. Many people who want to make progress on DEI do not have a plan or the skills to carry it out. Blanchard's newest offering,
Courageous Inclusion™
, cultivates a mindset that promotes diversity and inclusion and teaches participants a process to become more knowledgeable and active proponents of inclusion in their workplace.

93% OF LEADERS agreed that the DIVERSITY & INCLUSION AGENDA IS A TOP PRIORITY, BUT ONLY 34% believed that it's a strength in their workplace.*
Give your people the motivation and skills they need to create an inclusive,
welcoming work environment that encourages people to bring their whole selves to work.
Diversity, Equity & Inclusion
PROVEN DEVELOPMENT PATH FOR

WORKPLACE INCLUSIVITY
Why Diversity And Inclusion Matters?
Blanchard understands that awareness building and familiarizing people with DEI terminology isn't enough to enable lasting change. That's why we partnered with diversity and inclusion expert Jennifer Brown to create
Courageous Inclusion™
based on the proven developmental continuum in How to Be an Inclusive Leader.

MORE INCLUSIVE WORKPLACE
Participants learn the benefits of inclusion and a framework for progressing toward a more inclusive environment.

IMPROVED BELONGING AND ENGAGEMENT
Employees will feel more welcome and able to bring their true selves into the workplace.
INCREASED TEAM EFFECTIVENESS
When people feel welcomed and appreciated, they are more creative, driven, productive, forgiving, and collaborative.
RETAIN YOUR
TALENT
Employees are more drawn to a workplace that's alive with diversity and inclusion, and treats people well.
Diversity, Equity & Inclusion
CREATE A CULTURE OF


COURAGEOUS INCLUSION
Workplace Diversity And Inclusion
We understand how important it is to provide your people with a way to confidently and safely speak out and raise DEI issues. Blanchard's Courageous Inclusion program can help.
Courageous Inclusion will teach your people a mindset that promotes diversity and inclusion, then provides a proven process to help them become more knowledgeable and active proponents of inclusion in their workplace.
Your people will understand how to diagnose themselves on the developmental continuum and which actions to take to progress to higher levels of inclusion./p>
This roadmap approach is what makes Courageous Inclusion uniquely powerful for increasing inclusivity in your culture and creating a workplace where everyone feels they belong.
ADVANCING DEI THROUGH
BLANCHARD® SOLUTIONS
DEI Singapore
Our leadership solutions can serve as the foundation for DEI initiatives. Combined with Courageous Inclusion, organizations can create customized, full-featured learning journeys.
The SLII® leadership model is an excellent framework for integrating programs from our DEI partners. It provides a common language and asks leaders to adapt to the needs of their people and increase the quantity and quality of conversations with their employees.
Blanchard Management Essentials® can be fundamental to DEI implementations because it teaches managers how to be empathetic, communicate effectively, set individualized goals, and give feedback.
Coaching Essentials® focuses on teaching leaders to take the time to learn what each person needs to flourish.
Team Leadership teaches managers to build diverse, high performing teams that respect and involve all members.
Building Trust and Conversational Capacity® can help establish an inclusive workplace by teaching how to create a safe, trusting environment where difficult issues can be discussed openly and productively.
A LOOK INSIDE THE COURAGEOUS INCLUSION PROGRAM
Learn how Blanchard can help you create a culture
where everyone feels welcomed, included, and valued.
Talk to one of our leadership experts today!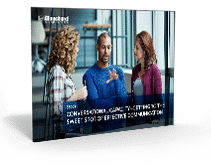 Connect with us to access our case studies or other resources.