WHY OPTIMAL MOTIVATION MATTERS THE MOST?
The significance of the employee's Optimal Motivation® cannot be neglected or can't be downplayed. If we look at the bigger picture, we see that when the employees are inspired, there is an expansion in profitability, an increase in turnover, and a positive change in the general execution. In this thought-provoking, engaging, one-and-a-half-day program, members investigate the Spectrum of Motivation and its six Motivational Outlooks. After attending the program, employees have expressed their job satisfaction up to 3X Times and their creativity and engagement reach an all-time high!

Optimally motivated employees in an organization are 3X MORE SATISFIED with their jobs, 3X MORE CREATIVE and 10X MORE ENGAGED.*
MOTIVATION IS A VIRTUOSITY
Drawing on illustrative cases and genuine work goals, assignments, and circumstances, members learn new motivational skills that can be utilized to enhance the way to figure out creative solutions to critical issues. The more extensive part of the program is that you will develop a genuine working culture in your organization.

TRUST
Increase the motivation amongst your employees and help them to get better results. Having a role model or a source of inspiration will help you to drive yourself & your team towards success at a faster pace.

MUTUAL RESPECT
Comprehend the scope of Motivational Outlooks in the Spectrum of Motivation, so that you can implement it in your working environment.
INCREASE YOUR EARNING POTENTIAL
Figure out how self-direction, self-rule, energy, and skills affect a man's feeling of prosperity, vitality, and effectiveness.
IMPROVEMENT IS ALL ABOUT PRACTICE
Improve and try to achieve small goals as the stepping stone to reach a larger objective.
ENHANCED CREATIVITY IS EQUAL TO FASTER PERFORMANCE
Optimal Motivation® helps your team to work efficiently, with positive energy and an enhanced sense of work ethics. Those employees that pursue the course will have the upper hand at their workplaces and will hold a beneficial state of advancement. They will be able to demonstrate more noteworthy engagement at their workplace, and as inspired individuals, they will create high-quality work with an elevated amount of proficiency.
WHO CAN BENEFIT?
People inspired to take actions are driven by the principles of Optimal Motivation® to accomplish and manage superior tasks in the corporate world. A person who manages to follow all the guidelines will surely see quick success at an early stage of their career and gain appreciation from others. The leaders and officials inspired by utilizing Optimal Motivation® have the best practices to use vitality, efficiency, and a definite feeling of accomplishment.
WHY MOTIVATING PEOPLE DOESN'T WORK… AND WHAT DOES
Optimal Motivation is a 1 or 1 ½ day face-to-face workshop that will teach your managers and self-leaders how to shift toward optimal motivation, every day, to increase employee engagement and productivity.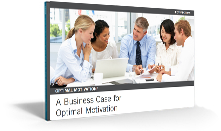 Connect with us to access our case studies or other resources.